IT Managed Services
IT services and solutions aimed at the management and maintenance of infrastructure and equipment, as well as user support.
With Reditus IT managed services solutions you are able to ensure support to your company's IT infrastructure and employees, 24x7, 365 days a year, without having a fixed structure of technical resources and with lower operating costs.
MANAGED SERVICES SOLUTIONS
Management and maintenance of infrastructure and technological equipment with end-user support that allows to mitigate risks, reduce costs and optimize productivity:
Service Desk;
Helpdesk;
Field Support;
Operating Process Development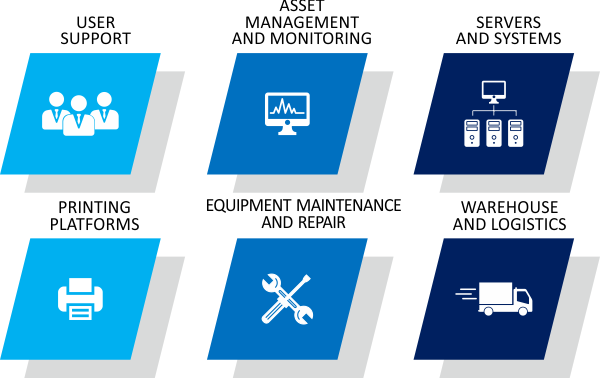 TRUST AND FLEXIBILITY
Reditus IT Managed Services solutions are designed based on ITIL best practices, in order to guarantee high quality services suited to the real needs of the Organization in general and of users in particular. With our services you can:
Ensure day-to-day operation;
Have access to a unique and personalized contact line for the company;
Benefit from a documented service catalogue;
Access a web platform with critical management information, via  PC, Tablet or smartphone;
Access service reports online;
Access the problem history in a knowledge base, contributing to improve performance in solving problems;
Maximize the resolution of problems at the first contact;
Manage IT spending according to the available budget and with the flexibility you need to cope with changes in the structure.
BUSINESS SECTORS
Reditus provides IT support services to national and international companies from various business sectors with a physical presence throughout the Portuguese territory, including mainland and the archipelagos of Madeira and Azores:

Contact us to learn more about our solutions marketing@reditus.pt